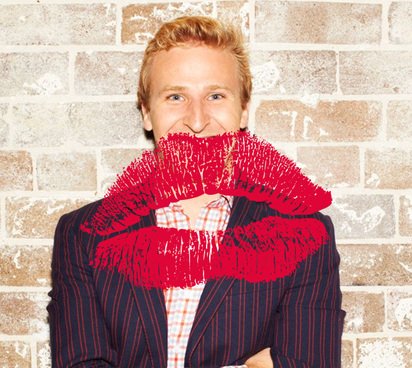 A bit of excitement for you all!
Not too long ago, a handsome young man named Sebastian Robertson worked for us at Complete Wealth. Now, as a result of his good looks, bachelor status and even better work as founder and CEO of his charity Batyr, Sebastian has been nominated for Cleo Bachelor of the Year 2013.
The founder and CEO of charity
Batyr
is an attractive sandy-haired, blue-eyed, 28-year old heart throb from Sydney. He is dubbed as one of the country's most eligible bachelors.
Sebastian was our information associate as a young buck in our Canberra office whilst he studied Economics and Commerce at the ANU. Over the years, we have had many promising university cadets. Seb was described in those days by Operations Manager Danielle as, "bright-eyed and full of potential… with a gorgeous smile." We attest it to Seb having learnt the ways of the alpha males (and females) in the office. But really, it comes to no surprise that he has been acknowledged for his looks, smarts, and of course, his social conscience.
Though as genetically blessed as he appears to be, Seb demonstrates that his best bits come from within. At only 25, Sebastian founded Batyr to engage, educate and empower young people to speak out about social and mental health issues.  His vision stems from his personal experience of dealing with depression at a young age and sharing his 'success story' with others to inspire change.
Sebastian has spoken at the schools of our children and universities around Canberra, Sydney and surrounds, working to change the stigma of mental health in young people. Batyr speakers are trained to share their life experiences about issues such as depression, suicide, sexual assault, eating disorders, bullying and personal health through encouraging students to listen, talk and seek help.
A brave and noble venture. Not just a pretty face, eh?
This year has been a big year for Sebastian, having already won the esteemed ANU Alumnus of the Year in March for his charitable work.
While Matt Battye highlights the similarity of the name 'Batyr' to his own, Sebastian will ensure you Batyr originates from the name of a celebrated 'speaking' elephant, living in a zoo in Kazakhstan. The charity's mantra is giving a voice to the elephant in the room.
Aside from being super busy with this day job, according to Seb's Top 50 Cleo Bachelor Profile you'll find him on the weekends "on the dance floor" and indulging in his guilty pleasure, chocolate and Glee. He's looking for a woman who can laugh at herself, and who challenges him (but will occasionally let him win).
There is no doubt this nomination makes Sebastian's mumma very proud. As for us, we here at Complete Wealth are as proud as punch. Seb's poster sealed with a kiss is currently hanging in our office much to the delight of the ladies.
Please throw Sebastian a vote. As far as men go, he's a pretty good one. Matt Battye offers some further advice, "Write that it's okay for men to vote, especially singles. It's only in their interests to get this bloke off the market and give ladies other options."
As a way of showing our support for his charity, Complete Wealth has a new Facebook campaign.  For every 'Like' we get on our Complete Wealth Facebook page at 31 July 2013, we will donate $1 to Batyr (and Seb's E-Harmony membership fee). So get clicking!
Make sure you also vote for Sebastian – check out his profile on the Cleo website here: http://www.cleo.com.au/bachelors/top-50/sebastian-robertson/
Or check out why you should vote for Seb in this video Why you should vote for the CLEO Bachelors http://www.cleo.com.au/cleo-tv/ at 1:42 mins in.