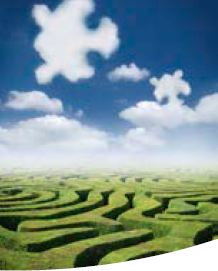 Australia's ageing population means an increasing number of people will need some sort of living assistance, either at home or in a residential facility.
According to the Productivity Commission, the number of people needing aged care services will increase from more than one million today to 3.5 million by 2030.
Demand for services rises considerably once a person reaches 85, with more people developing disabilities, including dementia. More than 1.6 per cent of the population is already over 85 and by 2050 this will have risen to at least five per cent. [1]
As people age, or their parents or relatives age, so will the need to make decisions about care and ongoing living arrangements. Understanding an ageing person's financial situation, as well as current and future potential health needs, can help to ensure they can continue to comfortably meet their living expenses.
Seeking help
Given the complexities around tax, superannuation, government entitlements and an individual's circumstances, retirement is often a key time to seek financial advice.
The aged care system is also notoriously complex, although government plans for a gateway My Aged Care website to be operating in 2013 will go a long way to helping people understand the system better. [2] Families and friends who have discussed the matter among themselves or with a financial adviser will undoubtedly be better prepared if and when the time comes to make life-changing decisions.
What to expect
Here is a snapshot of what someone or their relatives could expect to face. Before an individual can receive government-assisted home care or a bed in an aged care facility, he or she needs to be assessed by an aged care assessment team.
Someone assessed as needing a bed in a low care facility may be asked to pay an accommodation bond –similar to an interest-free loan to the aged care facility while they live there, however the facility is able to retain a portion of the bond each year for up to five years. The amount is negotiated with the facility depending on an individual's assets.
A person entering a high care facility generally pays an accommodation charge instead of a bond. The value of bonds vary greatly, depending on the facility, an individual or couple's circumstances and the financial advice
they may receive about the best way to pay a bond.
Rather than paying a lump sum it may be able to be paid in full or in part as instalments, with interest charged on the remaining amount. After the bond there is a basic daily care fee and a daily income-tested fee, which the Department of Health and Ageing determines.
The daily care fee depends on a person's pension status and the date on which they enter care, while income as assessed by Centrelink determines the income-tested fee.
In most cases, the value of a person's home or other assets will determine the entry cost and ongoing care costs. Once a bond is paid, it is no longer assessed for asset or income test purposes.
The family home dilemma
The biggest dilemma facing families whose remaining living parent is looking at moving into aged care, which requires an accommodation bond or an accommodation charge, is whether to sell the family home. While selling a home may provide extra income on which to live, it can also affect a person's aged pension.
An added complication is that care may not always be available when and where you would like. Illness and injury can increase emotion and stress levels considerably. When this happens, even the best plans can
go astray.
Jenny's story
Take Jenny Li's mother, Val. At 84 and with a debilitating illness she was no longer able to live alone in her own home. Jenny was lucky to find her mother a bed in a facility which, based on the value of her house at the time, required a $350,000 bond.
The plan was to settle Val in, sell the family home and pay the bond once the house was sold. It took 18 months for the house to sell and then Val got less for it than expected, leaving her with a substantial interest bill on top of the accommodation bond.
After seeking help from a specialist aged care financial adviser, Val moved to another slightly more affordable facility closer to Jenny. The adviser negotiated the bond on Val's behalf in such a way that Val was able to pay minimal care fees and keep her aged pension. Jenny would have preferred not to have sold the family home and may not have had to if she been presented with some alternatives earlier. However, the most important thing was for her mother to be safe, well cared for and happy in her new accommodation.