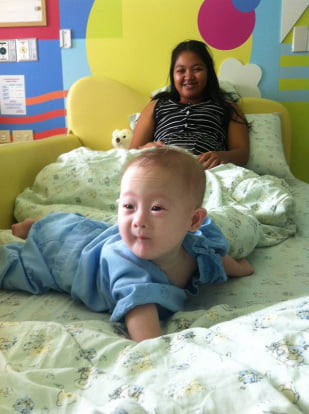 Australians have rallied together to raise money for Gammy, a 6-month-old baby boy born with Down syndrome and a congenital heart condition, who was abandoned fighting for his life in Thailand. Deserted at birth by his Australian biological parents, Gammy has since been looked after by his poverty stricken 21-year-old Thai surrogate mother.
Unable to afford the urgent medical attention required, Australian charity Hands Across The Water, have stepped in to help raise money to cover his immediate medical expenses.  Hands Across the Water is an Australian charity that gives at-risk Thai children and their communities a helping hand. Over the past 15 days, more than 6000 people have donated in excess of AUD$238,000 easily surpassing the original goal of AUD$25,000. The money will go towards Gammy's urgent short-term medical needs, as well as his other long-term needs.
Humanitarian and founder of Children First Foundation, Moira Kelly AO, has also been involved offering her expertise in the area, as well offering to facilitate Gammy's transport to Melbourne for cardiac surgery if need be. Co-guardian of now separated conjoined twins, Trishna and Krishna from Bangladesh; Ms Kelly is no stranger to humanitarian cases like this. Ms Kelly has brought dozens of children to Australia for life-saving treatment since she formed Children First Foundation in 1999, including her two adopted sons, Iraqi-born brothers Emmanuel and Ahmed. You may remember Emmanuel from popular television reality music competition X-Factor 2011, and Ahmed from the 2012 Paralympic Games where he represented Australia in 5 separate swimming events.
Based in Melbourne, Children First Foundation is a not-for-profit charity that allows children from developing and war torn countries to have life changing surgery in Australia. It also provides funding support for Australian families with disabled or chronically ill children.
Both charities are doing incredible jobs, and we encourage people to go to their websites and donate to great causes.
If you would like to help Gammy, please click the button below which will take you to the Hands Across The Water website to donate.
If you would like to donate to Moira Kelly's Children First Foundation, click the button below. You can choose to donate via phone, electronic transfer, mail or online!
Posted By Jacob Levido – Marketing Cadet
Marketing Cadet
Each year we look to give an aspiring uni students the chance to gain some professional experience and learn about business operations through a cadetship. Fostering the growth of young minds is a passion, and benefits everyone involved.