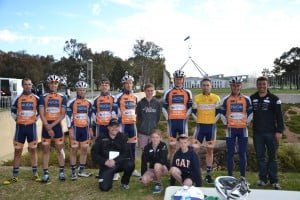 One thing you notice when the Huon Salmon Genesys Pro Cycling Team all rock up to a 'Meet & Greet' night with Complete Wealth, is that they all look identical, given that they are donned head-to- toe in a slick black team tracksuit and all have a generic short-back-and-sides haircut (perhaps for aerodynamics, but I didn't stop to confirm this)…
As you get to meet them, it is clear that the boys are all incredibly friendly. They managed to mingle through the crowd of keen cycling punters with ease like it was a Sunday afternoon BBQ.  Steve Price, the team manager, introduced each cyclist and gave a brief description of everyone's vital role. The audience asked questions and the boys responded with tips and success secrets for those lucky enough to hear.
The team had a stellar performance at the National Capital Tour that saw them claim first, second, and fourth on the overall classification with Sky-bound Nathan Earle, Jack Haig and Jai Crawford respectively. Huon Genesys also won the teams competition, Earle won the sprint jersey, and Haig won the jersey for best young rider. Fantastic stuff.
We had 3 young recipients of our prizes on the night of our Meet & Greet, which included team car rides at the National Capital Tour. These were Joe Beitzel (Canberra Cycling Club), Nic Tanner and Jordan Louis (Vikings Cycling Club). Jordan has written an insightful recount of his experience in the team car at the Friday time trial with a couple of pictures. Have a quick squiz here.
Again, many thanks to those who came along to the event; it was a great start to an awesome weekend of cycling. Also, a big thank you to the ACT Bike Superstore for hosting us, as well as Torq and Huon Salmon for providing goodies on the night. Check out our Facebook photos here.
Posted by Clare Welsh – Marketing Cadet
Marketing Cadet
Each year we look to give an aspiring uni students the chance to gain some professional experience and learn about business operations through a cadetship. Fostering the growth of young minds is a passion, and benefits everyone involved.